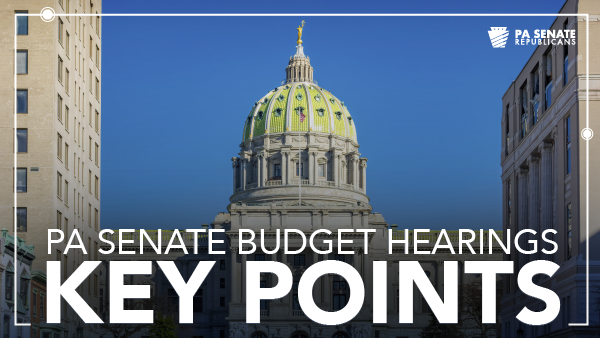 HARRISBURG – The Senate Appropriations Committee examined the budgets and operations of the Department of Labor and Industry and Department of Agriculture in Tuesday's hearings on the proposed 2023-24 state budget.
Gov. Josh Shapiro's $45.8 billion plan seeks to boost state spending by more than $1.3 billion above the current year's budget. Senate Republicans are reviewing the budget with an eye toward upholding the principles of protecting jobs, empowering families and defending freedoms.
Department of Labor and Industry
Senator Martin on Minimum Wage, Unemployment Compensation, Service and Infrastructure Improvement Fund and More
The governor's budget proposes a $9.2 million, or 11.4%, increase over last year's appropriation. Questions for acting Secretary Nancy Walker focused on the potential for major job losses if Pennsylvania enters the Regional Greenhouse Gas Initiative. Processing unemployment compensation claims and preventing UC system fraud were also leading topics.
Video Highlights
Department of Agriculture
The governor's budget proposal includes an additional $7.3 million, or 18.7%, for Department of Agriculture General Government operations. Pennsylvania's $132.5 billion agriculture industry is a major economic driver across the commonwealth.
Video Highlights
The Norfolk Southern train derailment impacted many residents at Pennsylvania's border with Ohio, including farmers. Testing of livestock and crops will continue following that incident.
Containing the spread of avian influenza and helping affected farmers is an important job for the Department of Agriculture. Senators questioned what impact a proposed cut in the Animal Health and Diagnostic Commission would have on the state's ability to respond to concerns, including Chronic Wasting Disease.
Pennsylvania farmland is being targeted by projects to produce energy for states that made poor energy choices. Pennsylvania taxpayers paid for farmland preservation which is being threatened by short-sighted energy policy in neighboring states.
You can find the hearings schedule, livestreams, daily recaps and video from prior hearings at PASenateGOP.com.
CONTACT: Jason Thompson